MORKEye <(o)> COD2 & COD4 Racism & Language Violation Tool
MORKEye v2 Supports ALL VERSIONS of Call of Duty for the PC….
MORKEye is primarily a chat monitoring tool. However Unlike some other chat monitoring tools MORKEye can monitor ALL forms of in-game chat from normal chatter to key bind messages to drop-down console '/say' messages. MORKEye checks everything that is said and uses both direct matching and heuristic scanning to pick up on racist comments or just plain old swearing. This is done using a combination of a list of bad words, a natural language filter and a severity system to determine what is offensive (and just as importantly what is not) and also what should be done about it (warn or kick).
MORKEye can also check for specific key binds and can punish people for such things as binding their firing key to the mouse wheel or binding a key to execute scripts such as aimbots etc…. All are dealt with by MORKEye (although this is NOT it's primary role).
Like all chat monitoring software MORKEye could make a mistake therefore unlike other chat monitors MORKEye will never ban a player for a violation, however you can kick for very long periods, and as with ALL chat monitoring programs there is an inherent delay between what is said and what is reported and therefore ALL chat monitors are prone to players quickly changing name causing the wrong player to be punished. MORKEye combats this through a two-pronged attack whilst monitoring for duplicate names & guid's.
Lastly… MORKEye was built for me…. not for general release. I released it because I thought others might find it usefull and it's down to those few individuals that have made improvement suggestions and supported MORKEye that the software is so good at what it does. Thanks guys… you know who you are.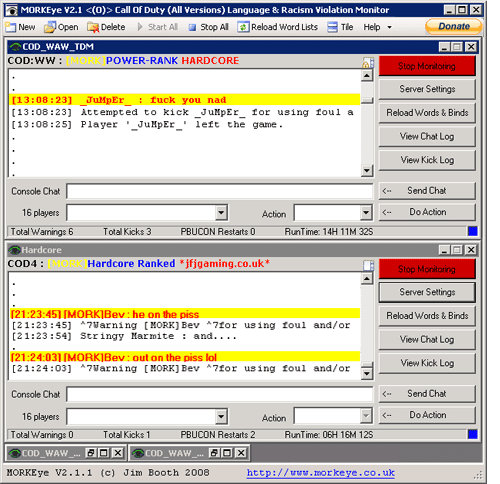 Enhancements in V2 include…
* Full working support for COD:WaW.

* New Auto-Start Facility.

* Fixed rcon packet errors.

* Fixed pbucon failures due to incorrect setup.

* Fixed MORKEye randomly crashing whilst monitoring.

* Monitor multiple game servers from a single interface.

* A watershed facility to allow violations between certain times (ie.. after 10pm thru until 6AM)

* A new ban words level <3>> which will kick during watershed (to be used for the most offensive words).

* A much improved alternate PBUCON Startup (similar to pbbans setup)

* New Chat logs created daily (old ones are archived).

* A New calendar based GUI interface for accessing current & archived chat logs.

… and much much more…
MORKEye V2.x.x can be downloaded from the downloads area.
(Registered users only)
MORKEye Support
Forum
Threads
Posts
Last Post
NewsLatest development information.
31
157
Merry Christmas
24-12-2009 10:20
by Jimbo
MORKEye Instructions / ReadmeA .pdf file about MORKEye. (530Kb)
–
–
–
DownloadsDownload MORKEye from here.
–
–
–
ServersA list of servers running MORKEye
…and see where in the world they are !!
–
–
–
InstallationProblems with getting it running.
92
585
MORKEye down?
25-01-2010 14:03
by scottmann911
Feature RequestsGot an idea for improving MORKEye… post it here.
59
285
improve banlist etc
02-02-2010 14:08
by kingzy21
Ban Words ListDiscuss issues & problems with certain words.
20
65
not kicking banwords cod…
04-11-2009 16:47
by alpenkorpsvio
Miscellaneous & FeedbackFeedback, criticism and almost everything else.
96
442
Binds
19-01-2010 14:59
by Jimbo
Friends Of MORKEye <(o)>If you are using MORKEye then post a link to your clan/servers here..
51
51
EPC-is using MORKEye
03-10-2009 11:24
by panther
MORKEye Extras
Forum
Threads
Posts
Last Post
MORKEye Online-ShopSupport MORKEye by buying your Amazon gear through our online portal
–
–
–
Board Statistics
Who's Online [Complete List]
5 users active in the past 15 minutes (0 members, 0 of whom are invisible, and 0 guests).
Alexa, Alexa, Yahoo, Yahoo!, GoogleBot
Who has been online today [Complete List]
59 users active in the past 24 hours (3 members, 0 of whom are invisible, and 56 guests).
Daggers, Jimbo, jneumann1
Board Statistics
Our members have made a total of 1,795 posts in 369 threads.
We currently have 1,283 members registered.
Please welcome our newest member, kriis
The most users online at one time was 26 on 12-09-2009 at 23:32
Translation

Donations
*** MORKeye is FREE ***
but hosting is not !!
If the 12000+ lines of code in MORKEye have helped make your servers a nicer place to play then please consider donating some beer hosting tokens.

Latest Donation
Killerin (£5)
on
11thJan 2010
Donations Received since
16th January 2008
£100